European leader in personal finance is building a competitive API monetization strategy.
Significant cost reduction
through consolidation of services
Simplified onboarding
of major partners enabling 100 million calls processed monthly
Enables product innovation
and monetization through a single platform
BNP Paribas Personal Finance Success Story
By deploying Unified Catalog to its API gateways around the world, BNPP PF lays a solid foundation for future monetization initiatives.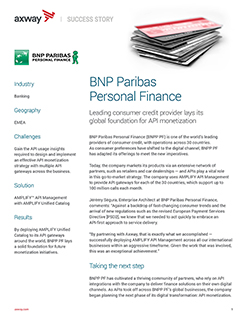 Do you have a story to tell about how you securely connect systems, apps, and people in ways that let you expand the reach of your enterprise to empower your business?